Jalama Beach Camping Site Located just an hour away west of Santa Barbara, Jalama Beach Park is a secluded place where visitors can lose themselves in the tranquility of nature. With more than seven fully equipped cabins, 100 campsites, and breathtaking ocean views, Jalama Beach Park has everything you need to enjoy the outdoors.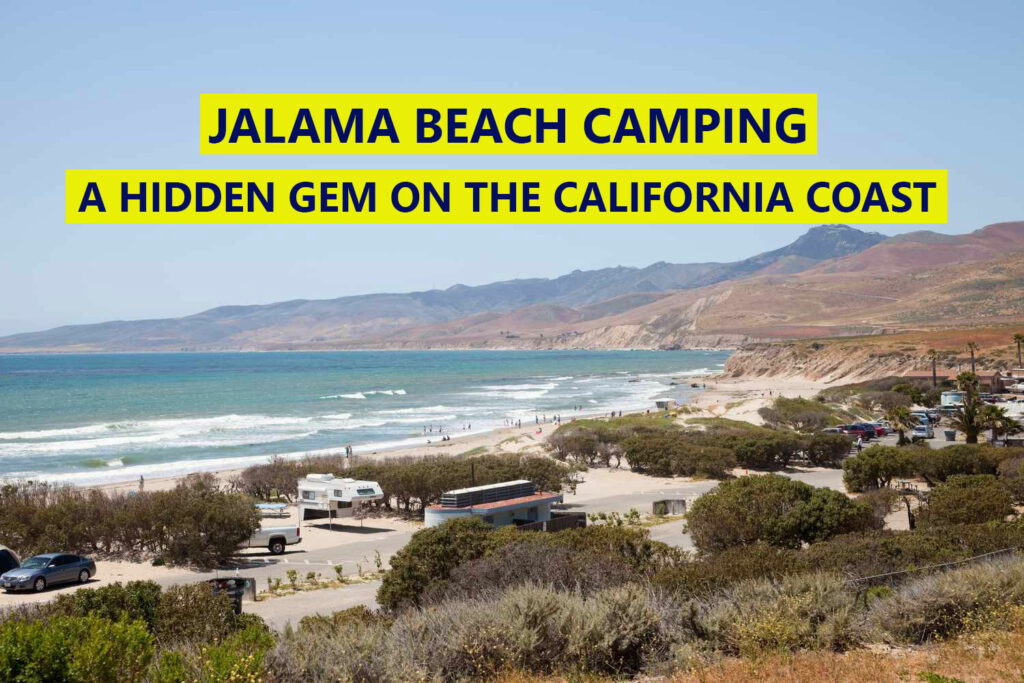 The campsites overlook the beachfront and can be reserved online through the Santa Barbara County Parks. Every site has a barbeque pit, a picnic table, restrooms, and hot showers. Each cabin here can accommodate around four people and has a bathroom, kitchen, private porch, fire pit, and living room.
This place offers plenty of recreational activities for visitors, such as swimming, fishing, whale-watching as well as surfing. The cherry on the top is a huge playground for the kids. Jalama is extremely popular among experienced surfers owing to its windy conditions and rough surf environment.
How to get to Jalama Beach?
Jalama is a hidden gem in California, and it is just one hour away from Santa Barbara. After you start your journey, you will encounter scenic landscapes and picturesque views. You drive up through the rolling hills and crest a hill before you finally glimpse the beautiful Jalama hills.
What types of campsites are there at Jalama Beach?
This unique beach has campsites, which include RV and tent sites. Some of the sites offer partial hookups, while some have full hookups. Every campsite will greet you with a fire pit and picnic table. Moreover, the campsite also offers cabins and yurts for rent!
For those avid travelers who also get homesick sometimes can enjoy the comforts of home. In this case, renting a campervan is a great option. These campervans have a stove, sink, fridge, a microwave and can sleep three people inside of it.
You can pick up the van at their designated location in Las Vegas, San Francisco, and Los Angeles.
What is the best time to camp at Jalama Beach?
The weather is pleasant all year round on the California coast. However, if you want to avoid the crowds, visiting Jalama Beach during the winter months is advisable! You will be greeted with the sight of whales if you visit this place from February to April.
Reservations
The best thing is that Jalama Beach has no strict reservation policy. Earlier, one had to show up at the ranger station at around 6 a.m. on the day you wanted to camp and enter your name on the waiting list.
However, in today's day and age, the Rangers would begin going down the list by 3 p.m. Then, they would call off the names until they reached the end of the list. Any person left would be jumped to the top of the next day's list.
However, despite all this, some premium reservation sites are first-come and operate on the county's reservation system. However, they are few. There are some sites which sit along the northern edge of the park. They overlook the rolling hillsides and a small stream that lets out into the sea. The check-out is at 2 pm every day.
Types of campsites
One will encounter with different types of campsites at Jalama Beach. There are basic tent sites without electrical hookups and offer a decent amount of walking around space. These basic tent sites are good for small groups of seven to eight people in one or two tents. Every site allows two cars. However, one has to pay an additional car fee of $10. These sites are also RV accessible.
Thirty-one campsites at Jalama Beach offer electrical hookups. However, one has to pay a slightly higher fee for that. Most of these campsites are situated up the hill that overlooks the park. The Abalone Point is a smaller campsite in the far south corner of the park. It has a waterfront location and can sleep only 20 people per night.
On the other hand, Starfish Cove is ideal for group RV camping. It has two dedicated RV spots, two food prep tables, one sink and a large barbecue pit. This campsite sleeps up to whooping 40 campers per night.
There are seven newly built cabins, and each one is designed to hold between four to six people. It also has bunk beds, one queen bed, and a pullout couch, all decked in the living room! This cabin also comes in handy with a dining table, a TV, a two-burner stove, a microwave and a sink.
The most appealing part about these cabins is that they are fully equipped with sheets and pillows, and you do not have to carry any bedding material with you!
One can take a nice leisurely walk along the beach, and the coastline is pristine and rugged! There are small pools which are perfect for exploring and some beach caves you should check out.
Surfing
Jalama Beach is a great surfing spot and hence you should ensure that you get your board along with you! It is recommended to plan it in the morning as it can get windy in the afternoon.
Amenities
One needs to worry about hygiene as one will find flush toilets and running water at several bathroom sites which are located throughout the park. There are many hot showers available at a low price of $0.25 per minute.
The general store and grill is well appointed with all of your campsite basics such as dry goods, firewood and camping chairs and the brick shack at the northern corner of the park.
One thing you should not miss out while on a camp are the Jalama burgers! You will find 50+ other hot menu items along with these burgers. What sounds better than nibbling on drool-worthy and lip-smacking burgers while watching the oceanfront view from the slightly elevated dining room area?
Final words
Jalama Beach Camping Spot is a site that awaits you for a perfect weekend getaway! The place is huge and has plenty of open space, a windswept view of the coastline, a new reservation system that is convenient for all, and some gastronomic delights you can nibble on!
For the ones in search of some adventure, they can head south for a Cliffside viewing and hiking along the sandy seaside.