North Lake Tahoe is a freshwater lake in Sierra Nevada between California and Nevada. This place is a major tourist attraction, and it is home to outdoor recreation, winter sports, and scenery, which can be enjoyed throughout the year.
Sips of coffee during a sunrise starry night around the campfire, there is nothing like camping in North Lake Tahoe. You can pitch your tent and hike and bike through forested trails! Experience tranquility by lounging in your hammock while aspen trees whisper overhead.
You will find camping options all around North Lake Tahoe. North Lake Tahoe offers resort living in a forest setting, and the following are some of the best campgrounds in North Lake Tahoe
William Kent Campground
Located on Lake Tahoe's west shore, William Kent shore is a few miles south of Tahoe City. The campground offers dozens of campsites for RV camping and tents. Each campsite is well equipped with campfire rings, grills, and tables.
This campground is situated in a residential area with more than 80 sites surrounded by cedar, pine, and fir trees. There are yurts for families. A yurt is a cabin-like space for a family of five people. Each yurt has a campfire ring, a picnic table, and a food storage locker.
Alder Creek Campground
In the vicinity of Deer Creek, Alder Creek is a campground with 6 designated sites. This campground is open for first come, first serve camping, and the best season to visit is summer. This is the perfect place to escape, and it is tucked along the banks of Alder Creek.
This campground has both the RV sites as well as the tent sites. One can indulge in different kinds of outdoor activities, such as ping pong, volleyball, and badminton. If you want to immerse yourself in an adventure and go on a forest trail, Sierra Nevada's wilderness is just a few steps away!
Webber Lake Campground
Webber Lake is a beautiful mountain lake that has a reputation for fishing. This location provides the perfect base camp for exploring all the nearby sites, such as the Pacific Crest Trail, Webber Falls, and the Perazzo Meadows.
The serene Webber Lake, situated less than an hour north of Lake Tahoe, Webber Lake campground boasts spectacular forests, wildlife, and meadows. The lake is home to many threatened and endangered species and offers recreational activities such as fishing, hiking, and padding.
If you ever visit this place, you will see the sight of coyotes and other animals echo over the lake at dusk.
Goose Meadows Campground
Located along between the Truckee River and Highway 89, Goose Meadows is five miles south of Truckee. This campground is situated on the banks above the Truckee River. Most of the sites here are shaded and forested.
This campground is perfect for a family weekend getaway. It offers family campsites, and each campsite has a picnic table and a campfire grill. It is also equipped with a bear box, which is used for storing food and other necessities.
Its proximity to Lake Tahoe increases its appeal. There are many bike riding and hiking opportunities at this place. Summertime is the best time for visiting Goose Meadows owing to there are many rafting opportunities. Fishing is also a popular activity.
Boyington mill
Located along the Truckee River, just twenty minutes from Truckee, many visitors enjoy this area for its off-road trails, fishing, and hiking opportunities. Little Truckee River is one of Northern California's best catch-and-release fly-fishing streams.
Boyington Mill is situated among fir and pine trees. Stampede Reservoir, which is six miles north, is very famous, and boating, swimming, skiing, and fishing are some of the most popular activities here! The amenities are vault toilets, grills, tent pads, and campfire rings.
Prosser Family Campground
Situated 10 minutes north of Truckee, Prosser Family Campground is located above Prosser Reservoir's west shore. It is situated within walking distance of Prosser Reservoir's western shore. Sagebrush, fir, and pine tree forests shade the area.
The area that surrounds Prosser family campground offers hiking, horseback riding and off-road trails. This reservoir is a very popular location for paddle boarding, kayaking and canoeing.
Prosser Reservoir offers a premiere fishing spot as it is situated in a forested paradise. You will get a view of dense forest and rugged peaks after you pay a visit at this picturesque site!
Coachland RV Park
Nestled just across the historic town of Truckee, Coachland is a park in the High Sierras where one you truly enjoy the tranquility of nature! Coachland RV is just 20 minutes away from Lake Tahoe. You gets to choose from a plethora of outdoor activities that are carried out here!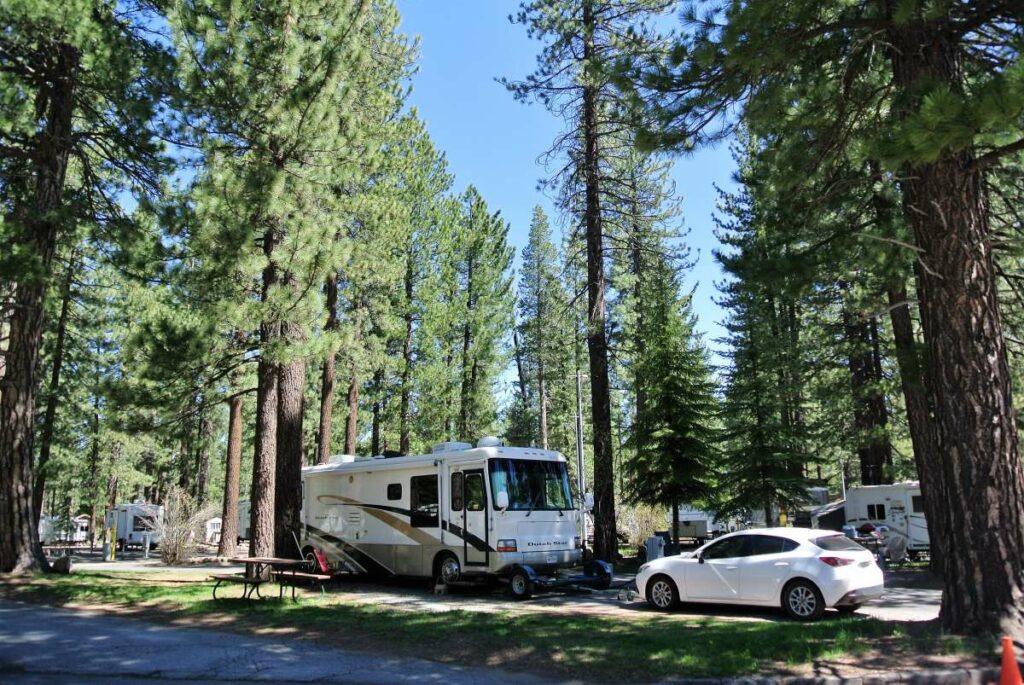 Wireless internet and digital cable TV are provided at no additional charge and there is an array of landscaped sites available at monthly occupancy for the people who are fond of gardening. However, these activities are available on a first come-first serve basis.
Sagehen Creek Campground
Located on the shores of the Sagehen reservoir, Sagehen campground is a remote, rustic campground which is seven miles west of Highway 89 north. The people who visit here enjoy fishing, boating and forest-trailing. The wildlife here includes elk, deer, owls, black bears, and woodpeckers.
Some of the best recreational activities here are canoeing, rainbow trout fishing and boating. One is likely to find a variety of mushrooms and berries in this area.
Final words
All in all, the one should pay a visit to North Lake Tahoe as there are some seriously swanky resorts, vacation rentals, wilderness and bistros that are worth exploring. It is an amazing place to visit all-tear round, however, there is something special about it during the winter season.
It becomes a winter wonderland, and the events that take place here during winter add another level of excitement! There is an array of concerts, the Northern Lights festival, pub crawls, and last but not least, the extravagant New Year's Celebration!
On the other hand, during the summer season, you can enjoy the mountain biking, the exciting live music and events, the hiking trails and the view of stunning blue waters!